Are you in need of new employees/freelancers?
Need work done? You can now reach out to a massive auditorium of English & Russian speaking job seekers!
~2000 highly skilled professionals wish to work on your digital adult projects so you can find a good employee fast.
"Adult" means internet projects for adults including, but not limited to XXX, dating, ad networks, online stores, gambling, betting, loans, essay writing, etc.
Whatever your needs, "Adult Digital Jobs" channel in Telegram Messenger has loads of digital work ready guys for remote, in-office and freelancer jobs in adult business.
Here's the distribution of competences/skills among all job seekers: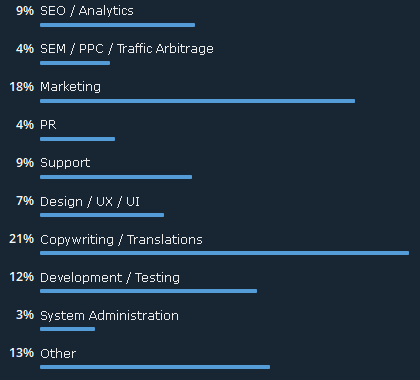 Turn your ideas into reality by simply posting a job in the "Adult Digital Jobs" channel and receive inquiries within minutes.
The channel publishes vacancies for free. Here's how to submit them:
https://telegra.ph/Adult-HR-04-01
Are you looking for a job yourself? Wait no more, subscribe to
https://t.me/adult_hr
in Telegram and pick the job of your dreams!
Here's how to visit "Adult Digital Jobs" channel:
https://t.me/adult_hr
Good luck with finding that you need.