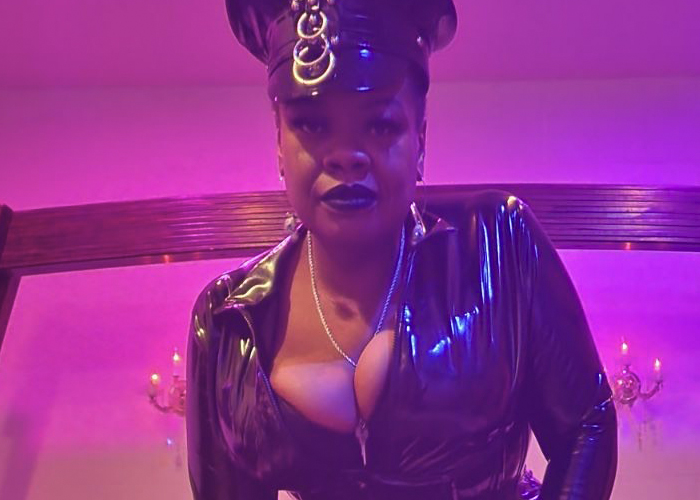 World Wide Web — Mistress Mia Darque was recently a guest on the What Women and Other Wonderful Humans Want Podcast.
Presented by Dating Kinky, What Women and Other Wonderful Humans Want Podcast is hosted by Jon, A.K.A. HiThereCatsuit, a multi-time Emmy award winning broadcaster with 35 years in front of the camera and behind the scenes. Jon helps educate people on traditional and non-traditional relationships, and to tell the story on how people connect with their authentic selves.
Mistress Mia Darque is a 6'3" Oklahoma Amazon, with over 20 years experience in the kinky community. The mature BBW got started as a lifestyle kinkster in Chicago during her early 20s, and turned pro in 2013. She has done sessions across the world, and performs at some of the hottest international fetish clubs. Darque is also a BDSM educator at Sanctuary Studios in Los Angeles, and serves on the board of DomCon where she is active working with their events in Los Angeles and New Orleans.
"My sessions in LA tend to be for my height, the fact that I can pick up a man my size and can toss you around like a rag doll," Darque noted, explaining the differences between sessions in Los Angeles and the MidWest. "Someone told me you have an elaborate collection of dildos, might I be able to see those. It will be some very well dressed man, who looked like he just escaped from 'DALLAS,' circa 1985, who shot JR kinda looking guy… It's always the conservative states, every time. They always come up with the weirdest stuff, the most random fetishes. In California, I have a lot of guys who want me to wrestle them… I have a lot of guys who are into heavier bondage… another reason why I love being at Sanctuary Studios, they're set up for just about anything and I don't have to come with 300 pounds worth of bags."
Darque and Jon talked about upcoming events, like DomCon New Orleans, and her own parties.
"I have my own event coming up with my crew at Femdom Events," said Darque. "We will be hosting it in LA... It'll be November 1st. It's a private, invitation only, play party… We're going to be using Sanctuary and have plenty of space, plenty of good music, and because it's me, plenty of good food… We're here to enjoy ourselves, be served, and let people bring service to us… I'm also looking for who might like to have a mansion party with myself, some of my Domme friends, and some of my wrestler lady friends here in Oklahoma… We're just enough in the middle of nowhere to have a lotta fun!"
The interview can be found at
https://open.spotify.com/episode/1cNgSisQIMHLjVAOwTL4Et
.
Jon will be covering FetishCon this weekend. For more from the What Women and Other Wonderful Humans Want Podcast, go to
https://linktr.ee/WhatWomenWantPodcast
.
Mistress Mia Darque can be found at
https://JustSayRed.com
. She will be at DomCon New Orleans October 26-29. For more on Darque's Femdom party at Sanctuary Studios on November 1st, go to
https://www.femdomevents.com
.